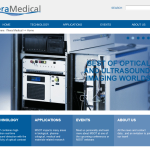 The iThera Medical website was re-created as a Typo3 website by FSnD Ltd according to design specifications by finest communication.
iThera Medical offers the next generation in molecular imaging. The website contains image sliders to promote their product, embedded YouTube videos and a download area.
The download area offers recent publications and requires the user to enter his email address and name before having access to the files.