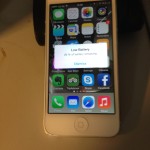 Trusting as I am I let Apple run the automatic update to iOS 7.1 on my iPhone 5.
This turns out to have been a serious mistake!
The battery life on the iPhone 5 never was exceptional, but it did last two to three days in standby mode before. Now after the update it seems the permanent state for the battery is empty.
continue >